Medications That Can Adversely Effect Diabetes Control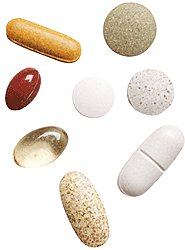 Medications of different types can have a very adverse effect on your diabetes control. Since diabetic people often have other conditions, and take other medications to control those too, these medicines can have an adverse effect on your blood sugar control, working against your diabetes regimen.
As I've talked about, your beta cells of the pancreas release insulin, which is a response to rising blood sugar levels. There are two phases to the secretion of insulin in the system. You have a rapid first phase of insulin release, and another phase which is a delayed response. These two phases depend on the potassium and calcium levels in your pancreas.
There are three major organs which have to do with insulin. The liver, in which insulin will enhance the uptake of glucose, thus preventing your liver from making new glucose. This is what the liver does to control your fasting blood sugar levels. As far as muscle and fat tissue, the actions of insulin kicks in and will prevent the flowing of glucose from these tissues to the liver. Your insulin does this by coming into action with your insulin receptor. The insulin receptor is a protein which comes from the outside of your liver to the inside of muscle and fat cells.
The types of medications that may adversely effect these actions in your body are:
Thiazide diuretics.Thiazide diuretics are frequently used to treat hypertension. They help the kidneys by blocking the reabsorption of sodium. These types of medicines raise the blood glucose because of the fact that they do affect your potassium, and potassium and insulin secretion are linked right together.
Glucocoticoids. This class of drugs have a very large effect on your carbohydrate metabolism. They are also used as an anti-inflammatory, especially in the treatment of arthritis of the rheumatoid types. These types of drugs work against insulin, not with it. They like to start the glucose production. As a result, the entry of glucose into the muscles where it needs to go is blocked off. The result? Hyperglycemia.
Beta-blockers. Many beta-blockers are used to also control hypertension. Beta-blockers can do one of two harmful things. The first is lowering blood sugar too much into hypoglycemic stages. And on the opposite side of the coin, the can prevent the release of insulin through acting with your nerve signals that link to the pancreas. This interrupts the action of your insulin working for you when it should, thus causing hyperglycemia.
Niacin. As many people know, Niacin is a drug that is used to control blood lipids, the main one cholesterol. The problem seen with Niacin in diabetic patients has been more insulin resistance. In other words, your body does not use the insulin in the correct way.
Antipsychotic drugs. These drugs have been studied as to why they either actually promote the onset of diabetes, or worsen diabetes already there. The main concept seems to be that they severely restrict insulin secretion needed in the body, and also promote a lot of weight gain which hurts diabetes control even further. They have also been known to bring on ketoacidosis in type 1 diabetics.
Every medication has some side effects, as no medicine is without this. But a knowledgable doctor or nurse practitioner should know what to do in order to not give medications that interfere with diabetes control. A good practitioner therefore, is armed with the right knowledge to help their patients in the best way. But for you as a patient to understand the medicines you are taking, will help you and your health care team make informed decisions.


Have A Great Story About This Topic?
Do you have a great story about this? Share it!
What Other Visitors Have Said
Click below to see contributions from other visitors to this page...